DIY Tutorial on how to make Beautiful Beaded Garland and door hanger with Hearts for the coming Valentine's Day Decor, along with easy way to make cute customizable candy pouches as surprise gifts tutorial.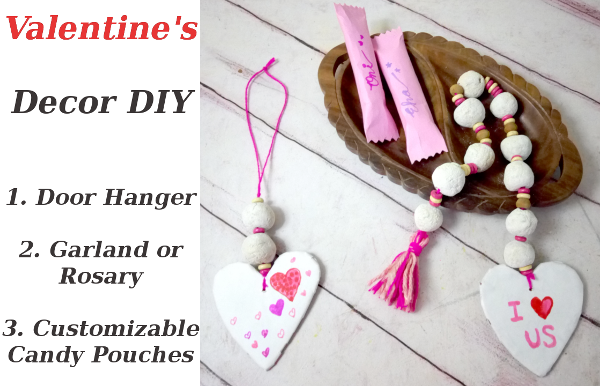 Valentine's Day is round the corner and I have very quick, easy and cheap decor DIY tutorial that you will love. I love the colorful beaded garland or rosary with the pretty beads and heart door knob hanger. I believe everyone loves surprise candy gifts, I made customizable candy pouches. All these Valentine's DIY are super cute, beautiful and very budget friendly.
A little imagination, few beads, few heart shapes, yarn and paper is all that was needed to create this DIY. Absolutely easy and done within couple of minutes. Yes, less than an hour, so might as well call it last minute decor idea.

Check out the video tutorial
I hope you like them too. They look so gorgeous and beautiful in my home. Hope you make some too. Do SUBSCRIBE to my blog and SUBSCRIBE to my YouTube Channel for more videos and posts on DIY, Decor, Sew, Recipes and homemaking on a budget. See you soon…
Am partying with