DIY Tutorial on how to make Beautiful Modern Farmhouse Fall themed Scroll for decor. Free downloadable printable in this post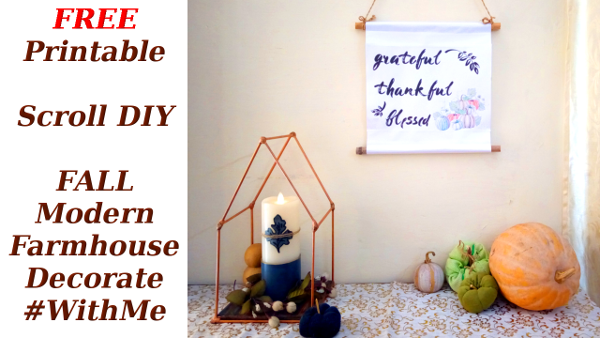 I am so happy to share with you a free downloadable printable which will help you make a sweet and beautiful Fall themed Modern Farmhouse chic scroll for decorations this Season or for gifting. This scroll has the words, "Thankful, Grateful and Blessed" along with a pumpkin patch in muted modern colors, painted in water colors.
Pin for later

As I decided to start decorating fot FALL and was looking for new ideas, I came across the idea for making a pretty scroll. Everywhere one finds Signs on canvases or in frames or even on clip boards but, Scroll is rare and rustic and yet so modern at the same time.
Then I thought, how can I share this with my friends, and the answer is through a downloadable printable. To keep things simple I have kept the background white with paterns in soft muted colors which can be easily printed and at the same time go with all kinds of decor styles and color schemes. Once you have this printout all you need is another A4 size paper, two dowels, rope or string and glue. Yes, just that much!
Check out my step by step Video Tutorial
I shared this video to show how I made it and also to share my little entry way decor using this scroll. There are so many places in the house where it can be used with many other decor ideas. Hope you will enjoy playing around your home decor too.
So here is the pdf file and can be easily printed. This is formated to the size of A4 size paper.
FREE Printable
Click here to down load your free Printable
Oh! I am so very loving this scroll. It really looks great on my walls. Hope you enjoy making one too. Let me know how you like my DIY. Do visit my other blogposts, SUBSCRIBE to my blog and SUBSCRIBE to my YouTube Channel . See you in my next post.
Am linking this post with