DIY Tutorial on how to draft and make Beautiful and Functional Geometric Bowl using Paper. Free downloadable pattern printable in this post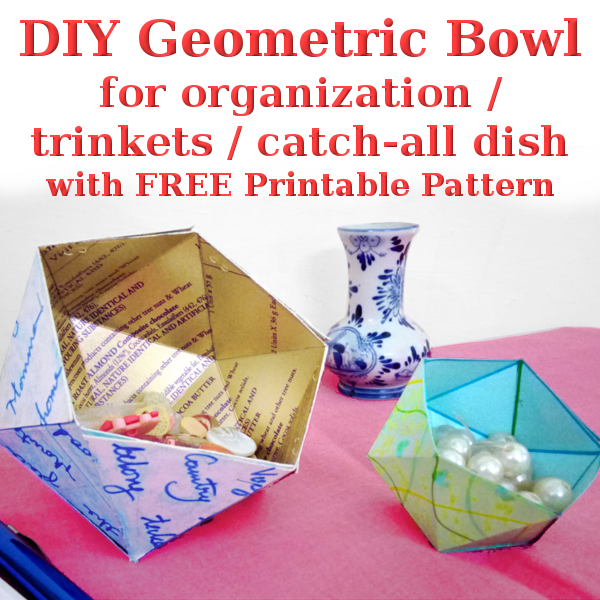 Paper crafts are fun activities and the creativity has no limits. Today am sharing with you step by step tutorial on how to make these gorgeous yet very functional geometric bowls. They can work as catch all dish, trinket tray or desk organizers. These geometric shaped three dimensional bowls or trays are beautiful and modern decor additions to any surface. There is FREE downloadable pattern printables in this post, just for you.
I was browsing internet when many months back I came across this lovely blog called "The Craft Patch" and the post was about making paper geometric bowls and I fell in love with them. Today I want to share with you how I figured out how to draft the pattern to your desired size and make your own customized geometric bowl for organization or decor. Now you can use any kind of stiff paper for example chart paper, handmade paper, scrapbook paper, card stock paper,… Another option is to take two different color or pattern paper and glue them together back to back to get your paper with good amount of strength or stiffness.
Pin for later

Now you can use them in many ways. Store the office desk supplies as pins or clips. Store craft supplies as buttons or beads or… Maybe place it on bedside table or entryway as catch all dish. Even add some artificial florals or succulents and use in decor. Endless possibilities with this simple craft.
Check out my step by step Video Tutorial
FREE Printable
Click here to down load your free Pattern This is a pdf file and can be easily printed. This is formated to the size of A4 size paper.
Once I made one, it felt so easy and pretty that I immediately made another. I am enjoying them in my home. Hope you enjoy making some too. Let me know how you like my DIY. Do visit my other blogposts, SUBSCRIBE to my blog and SUBSCRIBE to my YouTube Channel . See you in my next post.
Am linking this post with