DIY Tutorial on how to make Pumpkin shaped Wreath from scratch, absolutely for Free using just Metal Rings and Paper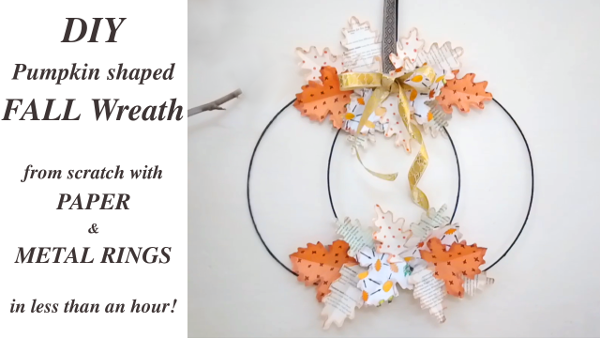 I saw these pumpkin shaped wreaths all over the internet and wanted to have one, but, the frame was not available here. So, I made my own frame and Fall leaves for The Fall Pumpkin wreath using some recycled rings and old paper.
I had resqued two metal circular rings out of the frames of old discarded lamp shades. If you know me, I hoard anything with a potential for DIY. I placed the two rings overlapping each other and…..EUREKA!!! My pumpkin was taking shape. Next I just needed some Fall leaves. I fashioned them out of old Papers. A little piece of ribbon…some tape…some glue and…

This did not even take an hour. Light weight, minimalist and strong design. LOVE it

It's so simple and quick. Watch it to believe it.
Video Tutorial
Do Make your own Pumpkin Wreath this Fall and enjoy. Do SUBSCRIBE to my blog and SUBSCRIBE to my YouTube Channel for more videos and posts on DIY, Decor, Sew, Recipes and homemaking on a budget. See you soon…
Am partying with