Quick & Easy Recipe for Microwave cooking Cinnamon Cupcakes in just 5 minutes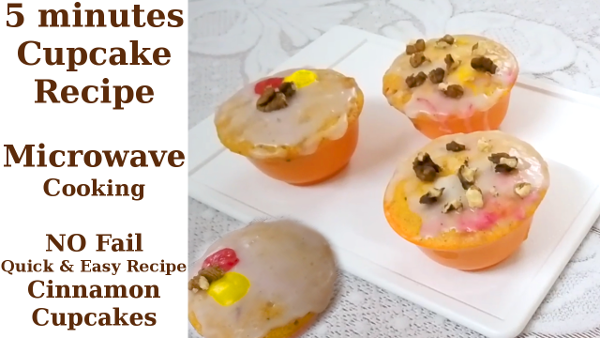 Fall or Winter or any Season, want to enjoy Cinnamon Cupcakes in a moment? Here is a NO FAIL quick and easy recipe to make Cinnamon Cupcakes in just five minutes. That's right 5 minutes and anyone can make them. Microwave recipe is here, but one can even use it in conventional oven too. No expertise needed…Enjoy!
It often happens that the kids want something different for the tiffin to school, or someone called up to say that they are in the neighbourhood and dropping in to say Hi or maybe you just want to have cupcake…Yes, one can have a cupcake anytime….Even better, make them in just 5 minutes using Microwave.
Watch the video for step by step Microwave cooking of Cinnamon Cupcake with me
Cinnamon Cupcake Recipe
Cupcake Ingredients
1 cup flour
1 teaspoon baking powder
1/2 teaspoon baking soda
1/2 teaspoon cinnamon powder
1 teaspoon freshly grated ginger or 1/2 teaspoon dry ginger powder
2 eggs
3/4 cup powder sugar
1/2 cup vegetable oil
food color (optional)
1/4 cup milk
Glaze Ingredients
1 cup powder sugar
4 teaspoons milk
flavouring agent or food color (optional)
Instructions
Mix all the dry ingredients except sugar and sieve or mix well.
Beat the sugar with eggs till double the quantity.
Add oil and color and whisk well.
Add dry ingredients and cut and fold to mix.
Add milk to get right pouring consistency
Microwave at 100% or High for 4 minutes. Let it stand in microwave for another 5 minutes.
Take out. Cool before icing.
Notes
If you do not want cinnamon or ginger, replace with any other flavour.
I love cooking in Microwave as it is fast and conserves nutrition. I would here tell you again that my microwave is of 1200W power. So check your microwave and set the time.
The recipe is free to download and easily printable on an A4 size paper.
PIN FOR LATER

This is a must try recipe and if there are any querries, feel free to write in the comment/discuss box below. Do let me know how you like the recipe and enjoy the bliss of having cupcakes anytime. Do SUBSCRIBE to my blog and SUBSCRIBE to my YouTube Channel for more videos and posts on DIY, Decor, Sew, Recipes and homemaking on a budget. I shall bring you many more quick and easy recipes in future. Deffinitely many microwave recipes too. See you soon…
Joining Link party at