DIY Tutorial Decoupage on Glass to get customized Coasters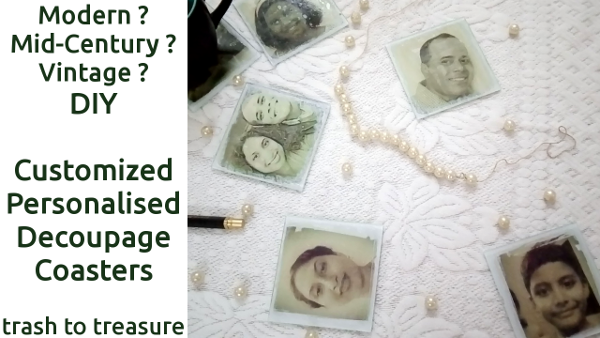 What is your style? Modern? Mid-Century? Bohemian? Minimalist? Vintage? Period? Well this DIY tutorial fits any style. Great DIY project using Decoupage on Glass to get handsome Glass coasters for any decor style. Best part, it is very much customized and personalised and so very unique to your home…
I have been recently trying a bit of Decoupage . It's an old art but, can be used in modern life so very well. If you know me you would know I like to keep my DIYs simple and so this decoupage project is also very easy and simple.

So, when I found a package wrapped in an old newspaper, I was curious. I openned it and found some glass pieces. The newspaper dated back to January 2005. Can you imagine? I had beed carrying this package with me for all these years.
Recently I issued a challenge to my fellow YouTube creators to create something new and useful using recycled glass, for the Useful DIY Challenge July 2019 . I told myself that I either use these glass pieces that I found in that old package or toss them away…no more carrying it around…no more of hoarding it…

This was a project I really loved doing. What I got is something very special as it holds special moments of my family.
Watch me create my Customized Glass Coasters using Decoupage.
Video Tutorial
I believe you must be wanting to make your personalised glass coasters. Enjoy… Do SUBSCRIBE to my blog and SUBSCRIBE to my YouTube Channel for more videos and posts on DIY, Decor, Sew, Recipes and homemaking on a budget. See you soon…
Am partying with