Three Rustic, Romantic, Farmhouse, Vintage looking Valentine's decor pieces DIY tutorials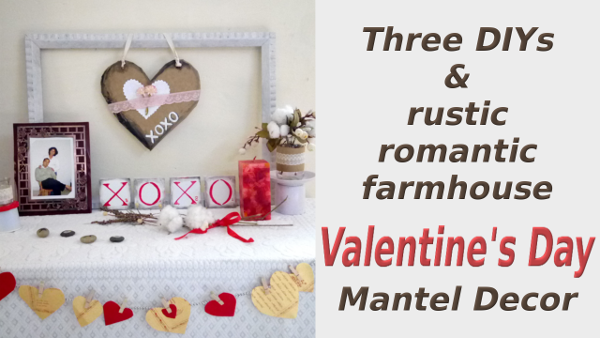 I have today tutorial on how to DIY three inexpensive but rustic, neutral and farmhouse style decor pieces. I am going to decorate my Mantel space for Valentine's Day with these.
I decided to make my own "XOXO" sign, a quick fun to do "Heart Garland" and add some rustic shabby chic touch to a "Vase and Candle Holder". Simple DIYs but they together can decorate a space beautifully.

I don't have fire place or mantel, as we live in part of the world which stays predominantly warm for 8 months of the year. So I just decorated a shelf in my home. I used simple items in the house and did my DIY. Belive me the outcome is beautiful.

Watch my video to see how easy DIY this had been.
Video Tutorial
My Valentine's Day DIY series
These are so beautiful and easy. I hope you make them too and enjoy decorating. Do SUBSCRIBE to my blog and SUBSCRIBE to my YouTube Channel for more videos and posts on DIY, Decor, Sew, Recipes and homemaking on a budget. See you soon…
Am partying with