How to repaint Rabbit and Bunny plastic dolls using Acrylic colors - DIY tutorial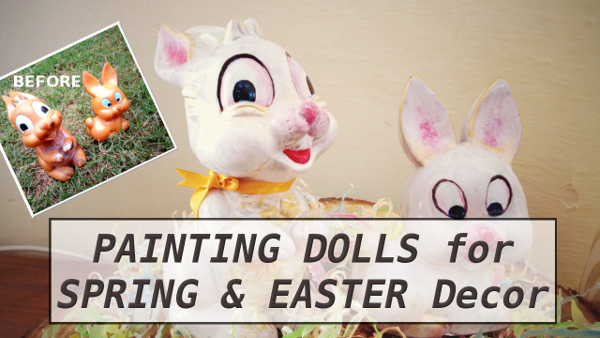 I repainted my childhood plastic rabbit and bunny dolls with acrylic paints and gave them a makeover, a new life.
I always had these very good quality plastic dolls. They must have been manufatured in 1970s or so. They are very good quality soft plastic, but are badly discolored. I have forgotten their real colors.

I always wanted to paint them and give them a makeover, but was scared of the outcome. Todays, I just did it. After a few research I found acrylic colors work very well on repainting dolls.

Come along with me and watch my video as I paint the rabbit and the bunny
Video Tutorial
Now, they make a beautiful Spring and Easter decor. Don't you think so. Hope I inspired someone to try giving a new life to an old toy. Do SUBSCRIBE to my blog and SUBSCRIBE to my YouTube Channel for more videos and posts on DIY, Decor, Sew, Recipes and homemaking on a budget. See you soon…
Am partying with