Two new interesting toppings for basic Pancake- Recipe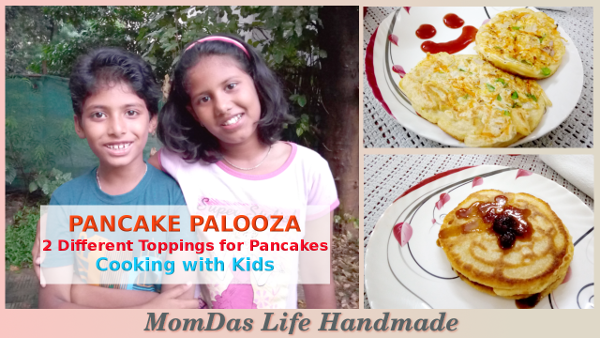 We all love Pancakes. Lets give it a twist, a double twist. TWO NEW Pancake Toppings Recipes !!
Hi Everybody! We all enjoy a hearty breakfast of Pancakes with honey or syrup. Today lets change the menu and add two new toppings to the basic pancake recipe. We made Pancake with Sweet and Spicy Mango Chutney Topping and Pizza Pancake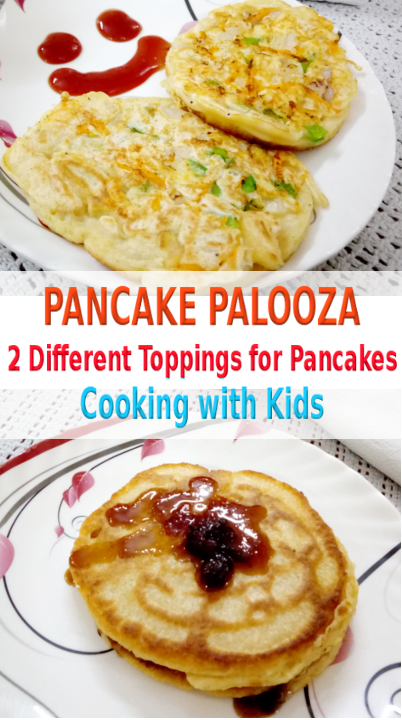 Video on Pancake with two different Toppings
Basic Pancake Recipe
1 cup All purpose flour
1 tsp Baking powder
1⁄2 tsp Salt
2 tbs Sugar
1 cup Milk
1 nos large Egg
2 tbs melted Butter/Olive oil and extra for frying
Sift the dry ingredients. Whisk the wet ingredients. Mix together the dry and wet ingredients to get a smooth non-lumpy Pancake batter. Let it sit for 2 minutes. Melt butter in a frying pan and pour a laddle of batter. Fry the first side till golden brown and flip over to cook the other side. Done. Enjoy.
We had great fun making these pancakes and had a hearty breakfast. Hope you too enjoy making and eating them. Do visit my other blogposts. Do, SUBSCRIBE to my blog and SUBSCRIBE to my YouTube Channel , so that you don't miss out on any excitement. See you in my next post very very soon.
Am linking this post with