Two Fall Decor DIY Tutorials with Neutral colors and Minimalist style, and a boho twist, for FREE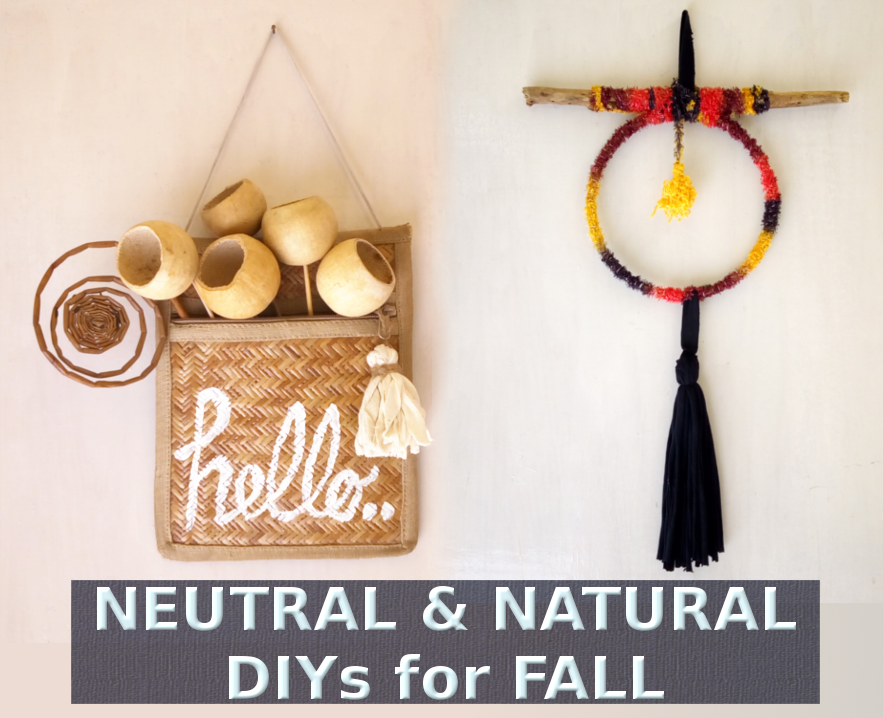 I want to share with you two natural and minimalist Fall Decor DIY or tutorials on Fall themed neutral color and maybe a little bohemian or boho wall hangings.
Hi There! Its time to create and decorate your homes for a new season. We must be thankful for the life and beauty of nature bestowed on us. Fall or Auitumn brings in beautiful warm colors. What better way, than to bring in a bit of Fall season warmth into our homes with some easy and free Decor DIY.
Neutral color Wall hanging with natural decor ingredients
I recycled a cane woven bag by taking out its front portion and using it to make this lovely wall hanging. It not only adds to the decor, but is also functional. The pocket in this wall hanging can hold flowers for the season or hold letters and bills, or… I have also shown in my YouTube video tutorial an alternative to make such a pocket.

Tribal or Boho or Fall inspired Dream catcher or Wall hanging
This vibrant yet beautiful wall hanging or dream catcher is bit boho or bohemian, a bit rustic tribal. It has true Fall or Autumn vibe with the rich colors of Fall. I enjoyed making this wall hanging. It is so simple and quick DIY.

My YouTube Video DIY Tutorial on Fall Decor
I hope you liked my last post Fall Decor DIYs where I made three Diy on Pumpkin theme .
These wall hangings are hanging in my front door and porch. Hope the video was explainatory. Let me know how you like my DIY. Do visit my other blogposts. Do, SUBSCRIBE to my blog and SUBSCRIBE to my YouTube Channel , so that you don't miss out on any excitement. See you in my next post very very soon.
Am linking this post with