Three Decor Diy for Fall on Pumpkin theme, in Budget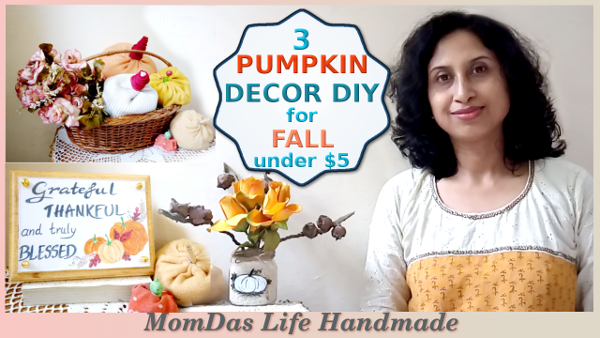 Fall is around here now. Lets celebrate this season with some easy and very low budget, but, super cute Pumpkin themed home Decor DIY. Watch my video tutorial titled "PUMPKIN PALOOZA 2018/$5 Fall Decor DIY!", for three Fall DIY.
The video is a collaboration with YouTube's Auntie Coo Coo.
"The leaves are falling, Autumn is calling."
Its time to be "Grateful, Thankful and feel Truly Blessed".
Inspired by so many YouTube, Instagram, Pinterest videos and images, this time I too decided to celebrate not only festivals and occassions , but, also seasons. This is very refreshing and interesting.
Those who know me would know that I never go overboard or get carried away with shopping. I prefer to make my own stuff with own hands with my own twists. My motto stands strong "If anybody else can do it, so can I. If I can do it, so can you".
Three Pumpkin Themed Decor DIY on a Budget
The challenge is to make something for home decor on a budget i.e. bellow $5. Well, am excited to announce that I used very much less than $5, as all I spent on was little acrylic paint and some jute twine or string. Actually I already had the jute string at home. Rest of the materials used are from home. Everyday items.
Pin and save for later

Announcement
I just got so excited doing these DIYs , that I have decided to do some more Fall DIY. But, obviously will share with you. So, SUBSCRIBE to my blog and SUBSCRIBE to my YouTube Channel , so that you don't miss out on any excitement.
Video on Pumpkin Palooza 2018 Fall Decor DIY Collab
I love my three DIYs and that too at such a small budget. Hope the video was explainatory. Let me know how you like my DIY. Do visit my other blogposts. See you in my next post very very soon.
Am linking this post with