DIY Video Tutorial on how to make Beautiful Expensive looking Vase from Scratch on a very LOW Budget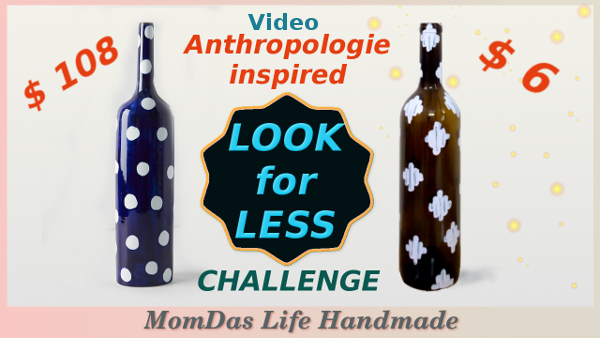 I needed a vase. I found online on Anthropologie , but it was way too expensive. So I made one for myself at a very low budget. This DIY is also part of Look for Less Challenge.
Look for Less
I recently participated in "Look for Less" Challenge hosted by Yami and Sarah . The Look for Less challenge is all about creating a home decor item at home at a very low cost inspired by a piece seen somewhere available at very high cost. So, you see it was a fun challenge and you own a beautiful piece for your home by the end of the challenge.
Inspiration and My DIY
I saw a beautiful Nova Vase . I liked its handpainted simple patterns. But its way too expensive $108-$148 USD. TOO, too much.
So, I made my own for just $6 USD available on Amazon or say I used acrylic color for just Rs 20 and my own paint brush. That's it. The vase base I used is an empty wine bottle. I like the rich brownish olive green color of the bottle. I even improvised on the original design and instead of going for simple dots or crosses, I painted Ikat .
Pin for later

Video on Look for Less Challenge, Anthropologie inspired Vase
I like how my vase turned out to be and that too at such a small budget. Hope the video was explainatory. Let me know how you like my DIY. Do visit my other blogposts, SUBSCRIBE to my blog and SUBSCRIBE to my YouTube Channel . See you in my next post.
Am linking this post with