DIY Tutorial on how to make Beautiful and Functional Wall Mounted Loose paper Organizer Folder from an Old Book Hard Cover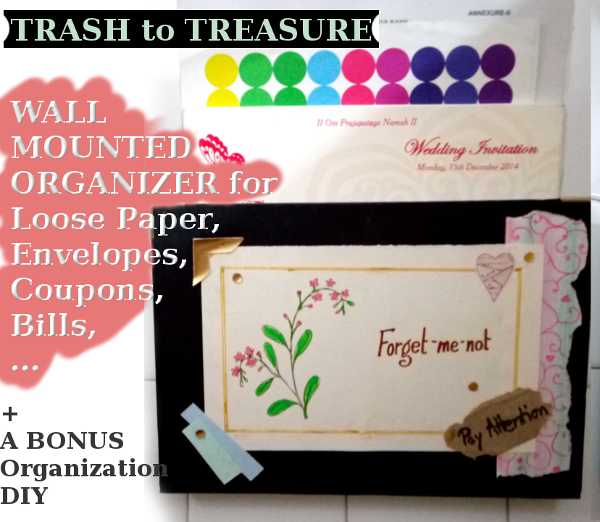 We all have loose paper, bills, letters, etc to take care of. Here is a step by step easy tutorial on how to make a wall hanging paper folder or organizer. This is very useful as everything stays organized and one takes care of every document on time. This is also a trash to treasure project, as it uses an old hard bound book cover.
With kids around, comes worksheets and drawings. With grown ups comes bills, coupons, cards, etc. thes are items which are important and can not be thrown. These might not be of immediate attention but, can not be stored away. What to do ???
Pin for later

Some time back, I tore off the pages of an used old diary. I was left with the hard bound cover. I put it to work. I am not into scrapbooking but, I tried and it was fun. I got a new folder to keep these kind of paper.
Check out my step by step Video Tutorial
Note This video also shows glimpses of The Taj Mahal in India. I went on a family trip to Agra, India and took the oppertunity to share The Taj Mahal's beauty with you all.
I love the "Forget-me-not" design and message. There is also a note saying "Pay Attention…". I find this folder very useful and beautiful. Now I can keep these type of paper in order of importance. They can be in plane sight and yet, look beautifully organized.
I hope you will like this project and make one too. Hope the video was explainatory. Let me know how you like my DIY. Do visit my other blogposts, SUBSCRIBE to my blog and SUBSCRIBE to my YouTube Channel . See you in my next post.
Am linking this post with