DIY Tutorial on how to make Fairy Garden for beginners from scratch, including garden accessories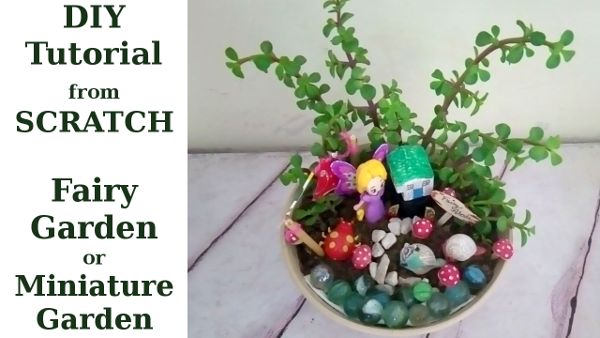 My first attempt at making Fairy Garden and am proud to say that I made all my accessories and set up a beautiful garden for free. There is a fairy tale too.
I always watched fairy gardens on various social media sites and they always made me happy. The magical component and cute little miniatures always attracted me. Some of the gardens are so detailed, it's just mesmerizing. So, I finally decided to make one. Long back before I started blogging I did once make a mini container garden, but, never a fairy garden. Don't laugh if I say I used the top of bathroom flush as my container as it was relatively flat and made of ceramic. It was very basic with a fountain and some a path aound the plants and pond. I liked it. We moved, seasons changed and that garden was lost. It's time I make a mini garden or a fairy garden.

I don't have a garden center or hobby shop nearby where I could find the fairy garden accessories. Well we all know, neccesity is the mother of all inventions. I made everything I used in my garden.
I borrowed two toys from my children, some polymer clay, some popsickle sticks, some bamboo skewers, colours,…and imagination. I used an old ceramic bowl as the container or the pot. That's all that was required.
As I planned and made the accessories for my fairy garden, I also made a little fairy tale around it. Watch me make my fairy garden and listen to my fairy tale in my YouTube video here.
My Fairy Garden DIY tutorial video
Do give a try at making your own fairy garden and write and narrate your own story. How did you like my fairy tale and fairy garden? Do let me know in the comment section below. Do SUBSCRIBE to my blog and SUBSCRIBE to my YouTube Channel for more videos and posts on DIY, Decor, Sew, Recipes and homemaking on a budget. See you soon…
Am partying with