A quick and very easy project using a small soft fabric.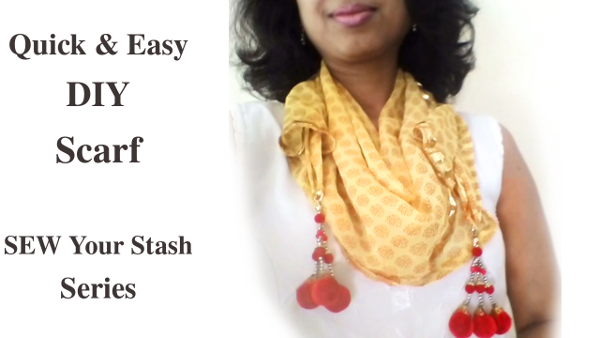 Do you keep stash of fabrics? I do. Let's dig them out and make a project every month. Let's make pretty sew items. I have easy tutorials and some 'draft your own patterns' and printables for upcoming sew projects.
Hi Everybody! I am excited today because I have two big announcements to make…
To begin with the first one..am starting a new series "SEW YOUR STASH" Yes, take out all those fabrics stashed away in boxes and cupboards. We shall make pretty and easy and simple and beautiful items for ourselves, our loved ones and home.
So my first project is this lovely "SCARF"
FABRIC
The fabric I used is a very good quality chiffon in sunny golden yellow with terracotta orange floral prints. Very pretty. I got this fabric for a blouse that I never made. I teamed it with some gold lace or zari or gota and red pom-pom tassles.

Video Tutorial
I think this is beautiful. This one especially would look gorgeous with whites, creams, yellows,reds,….Oh now it can be teamed with so many outfits. So Spring fresh anbd also so Summery. The soft fabric touching the neck feels so good. A hint of gold and splash of those pom-pom tassles is fun.
Now onto my next announcement. I have signed up again for the Me Made May 2019 challenge hosted every year by Zoe from her blog http://sozowhatdoyouknow.blogspot.com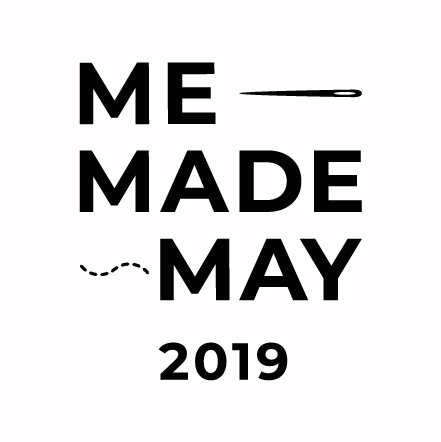 I want to share with you my pledge for this years challenge:
"I, Mom Das from www.momdaslifehandmade.netlify.com and instagram @momdas2012 and YouTube channel www.youtube.com/c/MomDasLifeHandmade pledge to wear my handmade clothes throughout the month of May 2019 and share with you at least least new sew items for myself, my daughter and home every week of May. I shall also share video tutorials or patterns once a month on my social media sites."
Now, I do hope you shall be digging out your stash and start a new project and fill your home with pretty and useful items and not just a bundle of fabric scarps. Do SUBSCRIBE to my blog and SUBSCRIBE to my YouTube Channel for more videos and posts on DIY, Decor, Sew, Recipes and homemaking on a budget. See you soon…
Am partying with