Great DIY and Sew Project to create Handmade Gifts for HER or Hostess - Kitchen Apron, Tea Towel and Cocktail Napkins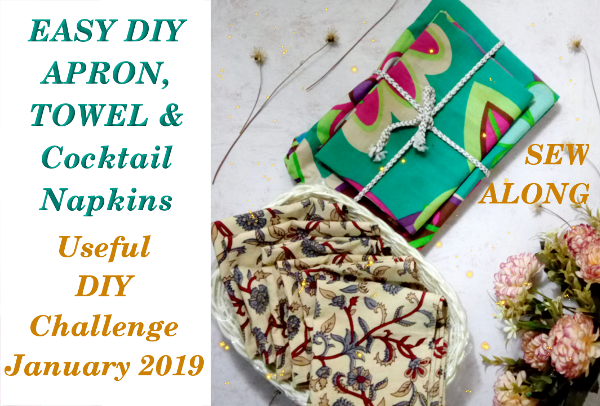 Welcome to first edition of "Useful DIY Challenge January 2019" which I am co-hosting with Bum Bea DIYs from YouTube. Today am doing a DIY or sew along project where I shall sew a Kitchen Apron, a Kitchen Towel or Tea Towel and a set of six Cocktail Napkins. These are meant to be a gift for a dear friend of mine. These can be great DIYs for Home or Hostess. These Handmade items are very elegant and very useful.

First I started by getting some fabrics. Some from store, some from my stash. Next I just sat down and made a rough sketch and planned out what I shall make. I took my old apron and measured it. I think making pattern for one self is so easy. Just pull out something that is well fitting and measure and make new pattern or draft.

Once the plan or draft is made, it is a smooth ride then. Just measure, mark, cut and sew. And three lovely items are made in couple of hours. I have a lovely apron, tea towel and six cocktail napkins. How nice. Handmade items look so chic, so elegant and so posh. Such a lovely gift. I would love to have such a gift. Hope my friend likes it too.

Watch my video to see how easy DIY this had been. How quickly I sew and made my apron, tea towel and cocktail napkins.
Video Tutorial
Aren't these beautiful and easy? I hope you find this useful and inspiring. Do SUBSCRIBE to my blog and SUBSCRIBE to my YouTube Channel for more videos and posts on DIY, Decor, Sew, Recipes and homemaking on a budget. See you soon…
Am partying with