Steamed Ilish-Hilsa Fish in spicy Mustard curry - Free printable Recipe and Video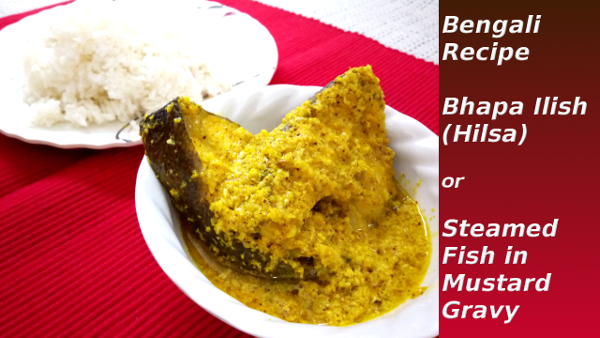 Today I have the Traditional Classic recipe of the very delicicous and popular Fish dish known as Bhapa Ilish or Hilsa in mustard gravy. This is a very simple recipe, quick to cook and outstandingly delicious. This recipe is out of the World from Recipes Around the World. This special dish is delicacy of West Bengal, India. A much loved Bengali recipe. The recipe uses Ilish or Hilsa fish which has a very special taste, but if you do not find Hilsa or Ilish fish, do not panic and try out the recipe with any fleshy river fish.
Watch the video for step by step cooking of Bhapa Ilish with me
Bhapa Ilish-Hilsa Recipe
Ingredients
4 pieces fish
2 tablespoons black mustard seed paste
2 tablespoons sour curd or yoghurt
1 and 1/2 tablespoons freshly grated coconut
3/4 tablepoon poppy seeds paste
1/2 teaspoon turmeric powder
2 tablespoons mustard oil
1 or 2 green chillies (optional)
1/2 teacup water
Salt to taste
Instructions
Mix all the ingredients except oil and chillies into smooth paste.
Pour 1/2 cup water and add the fish pieces. Let the fish marinate for 10 minutes.
Add a tablespoon of oil and cook (Steam or Microwave).
Before serving add little of mustard oil and serve with hot steaming rice.
Enjoy!
Notes
If you do not have Hilsa or Ilish fish, try with some other fleshy river fish.
If steaming, use a double boiler for 20 minutes.
I love cooking in Microwave as it is fast and conserves nutrition. I would here tell you again that my microwave is of 1200W power. So check your microwave and set the time. A simple trick is to microwave on high for 30 seconds each time and check for the "done-ness" of the food. If NOT "done", then microwave for another 30 seconds.
Fish curry is best enjoyed with steaming hot rice.
The recipe is free to download and easily printable on an A4 size paper.
PIN FOR LATER

Do make fish recipe and if there are any querries, feel free to write in the comment/discuss box below. Do let me know how you like the recipe. Do SUBSCRIBE to my blog and SUBSCRIBE to my YouTube Channel for more videos and posts on DIY, Decor, Sew, Recipes and homemaking on a budget. I shall bring you many more quick and easy recipes in future. Deffinitely many microwave recipes too. See you soon…
Joining Link party at