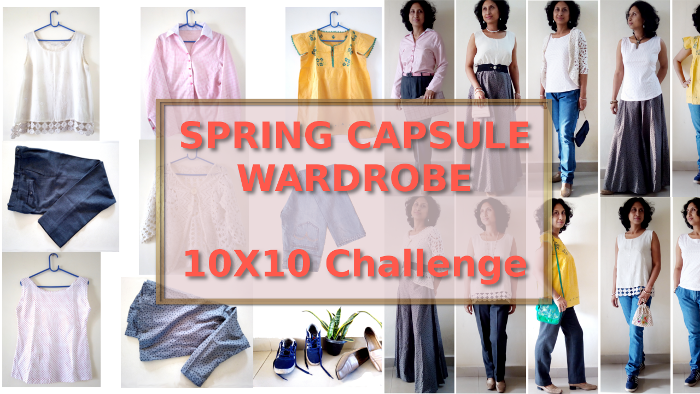 Spring 10 x 10 Challenge/Spring Capsule Wardrobe
Hi Everybody!
A few days back I stumbled upon a blog StyleBee where Lee hosts a Spring Challenge. I really liked the whole concept. I too wanted to give it a try. So, I pulled out my clothes from the wardrobe and started doing various combinations with them. Believe me, it was real fun.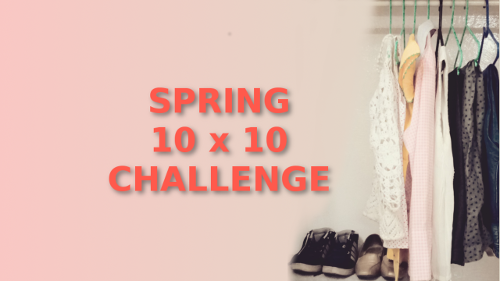 Here are what I picked from my closet.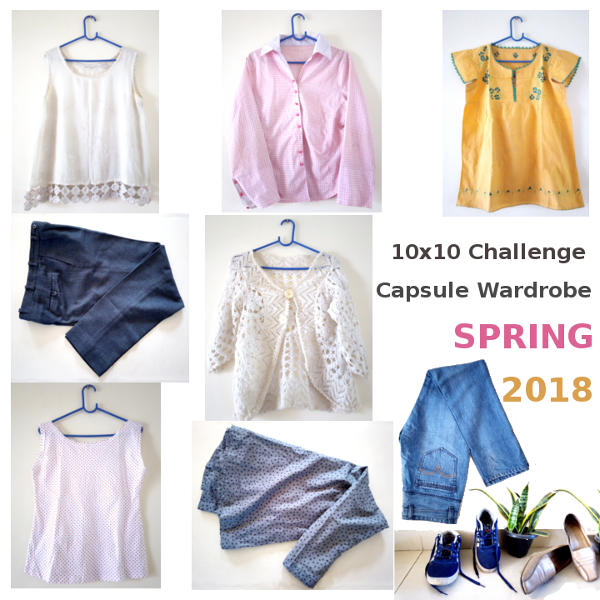 Offwhite color loose chiffon top with subtle embroidery, and embellished with crochet borders. The border at the bottom has two rows of crochet flowers. The border was added by my mother.

Baby pink check shirt with white collar and cufs.

Yellow cotton top with green florals embroidered on it, inspired by a top brand I happened to see in a mall.

Pair of Charcoal grey tailored fit trousers.

A Crochet shrug made and gifted by my mother.

Red polka dots on white sleeveless T-shirt, bought on a sale.

Palazzo made out of black stars on grey fabric. This piece was sewn by me during Me Made May 2016 challenge. I love this piece.

Pair of blue straight cut slim fit jeans from Levi's.

Blue denim canvas shoes.

Muted gold leather shoes with one inch and a half heels.
How my 10 pieces made 10 outfits
Here is a video of my Spring Capsule Wardrobe with 10 pieces making 10 outfits for 10 days.
Like to have another look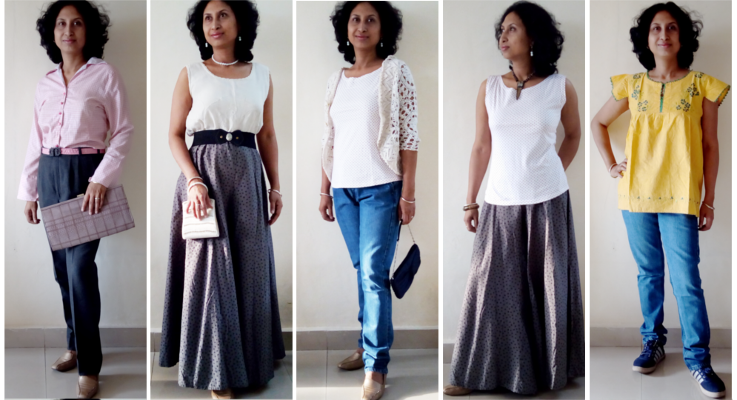 Formal look with pink check shirt tucked in tailored trousers with close toe leather shoes.

Evening outing with palazzo and chiffon top. The look is beautified with pearl string and ear tops.

For a casual meeting up with friends put on a shrug over a T and pull up a pair of jeans. Leather shoes and a clutch, ready to go.

Going for an exhibition/play/brunch, put on the T over the palazzo for a BOHO DON'T CARE look. Team with just a statement neck piece.

Absolutely carefree and playful? How about cotton embroidered top over a pair of denims with canvas shoes?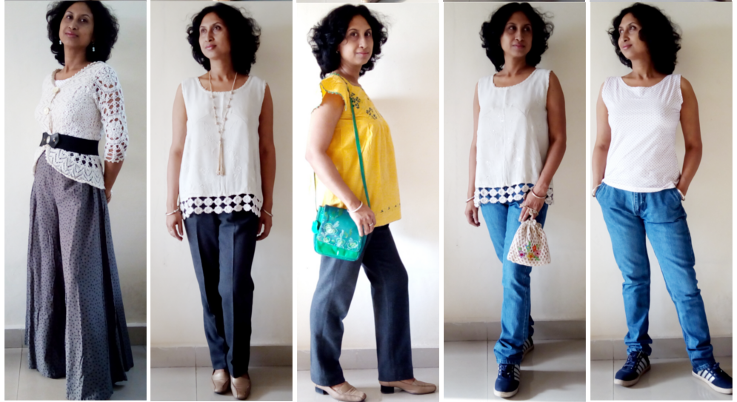 Evening out with hubby? Wear the shrug over the palazzo and add a dressy belt with some heels. Classy.

Going over to freinds house in the evening - wearing my chiffon top over the trousers. I simply added a long beaded neckless to dress up.

Out to buy some grocery and kid stuff, just pull over the cotton top over the trousers and good to go.

Meeting freinds for a movie, I just have my chiffon top over my jeans and had a crochet handbag with drawstrings or Batua.

For the evening walk I like a cool T with a pair of jeans and canvas shoes. Cool.
What I liked about Spring10x10 Challenge
We do not need too many clothes nor run around and shop online. Less is More. Just have few but cleverly chosen pieces in your wardrobe, and you have too many outfits.

Participating in this challenge made me try many new variations with the same pieces of clothes. I tried out combinations that I used to think might not look good on my body type or my age, and now feel that I unnecessarily held myself back from wearing smart and looking the best.

This exercise was mood boosting, as I liked my videos and pics and can now dare to try some more outfit combinations.
You tell me
Tell me which outfit looked best on me in comment box bellow.
Do subscribe to my YouTube Channel
I have many many many… videos planned out for you.
Am linking this post with